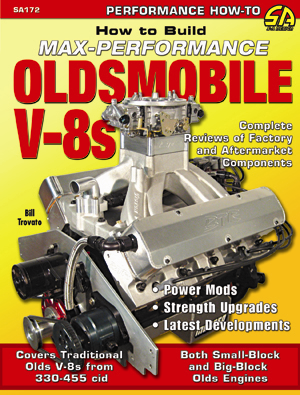 In this book Iím sharing almost 30 years of accumulated Oldsmobile knowledge to help in your Oldsmobile performance endeavors. This journey began at age 16 when I rebuilt my first 455 Olds engine for a í70 Cutlass S.

As Iíve never believed in following the masses, I tend to do things a little Ďoutside the boxí and in this book Iíll explain why I do some of the things that I do and hopefully step you up a notch in the Oldsmobile performance world. Youíll find that some of my techniques are about as far from building a small block Chevy as you can get. I tend to go down the road less traveled Ė and I donít give advice that I think is good, I only give advice that Iíve physically proved to myself.

My goal in sharing this knowledge with Oldsmobile enthusiasts is that this book will result in faster ET slips at the racetrack and more Ďseat of the pantsí power on the street. Iím also here to save you from dropping your engine off at your local machine shop and having it built with conventional techniques that result in premature engine wear and ultimately engine failure - I completely remember my early days with Oldsmobile performance and the feeling of huger for this knowledge. Ultimately youíll save a bunch of money, but you have to understand from the start that High Performance Oldsmobiles are inherently more expensive to build than a Chevy or a Ford engine.

While almost every individual subject in this book could have a book written about it to cover every single detail Ė in this edition, Iíll share my 28 years of experience in power and longevity techniques that are unique to High Performance Oldsmobiles.

My working career started on my 16th birthday as a heliarc welder at a sheet metal fabrication shop. Next I worked at the Delco Products General Motors plant in Rochester, NY for 19 years and served 5 year apprenticeship as an Automation Mechanic. As a Journeyman Automation mechanic, I worked repairing, troubleshooting, and re-designing automated equipment.

While working at Delco, I also worked weekends from 1997 to 2001 as a tech official for the NMCA which was then owned by Petersen Publishing, best known for its most popular Hot Rod Magazine. It was a great experience flying around to their races working as a tech official, writing and enforcing rules and helping host the events. During that time period, I became the Race director for the brand new (at that time) National Mustang Racers Association, better known as the NMRA, and was one of the people that helped get that organization off to a start.

When I first started at Delco Products in 1986, there were just under 4000 people working there. In 2003 I noticed that manufacturing plants in the United States were leaving and had packed enough CNC equipment on Delco trucks headed for Mexico to figure out where this was all going to lead. So, in 2004 I decided to leave Delco and start my own business better known now as BTR Performance. If you ever visit my facility, youíll see my CNC background throughout the shop as Iím a believer that meticulous machining techniques and precise tolerancing are the foundation for all brands of high performance engines.

There were a few mentors that shaped and molded me as a young Oldsmobile enthusiast in which I must give credit to at this time. The very first time I ever went to a drag strip as a teenager with my first car, a white 1970 Cutlass S, I saw a gentleman named George Howcroft leave the starting line with the front wheels in the air, running some 11.40 ETís in his black and gold, NHRA E/SA, 1970 442 W-30.

At that moment, my future was determined; I decided that I would do whatever it takes to run that fast one day. George took me under his wing and continuously helped me progress as he had had tremendous knowledge and had raced Oldsmobileís since the 1950ís. In the mid 1980ís, George had convinced me to compete in NHRA Stock Eliminator with his old W-30 that was for sale and eventually purchased the black and gold car that I saw him race as a teen. I decided that if I was going to race NHRA, I was not going to show up unless I could come close to setting a national record. This mindset molded me during my early years as a Ďgarageí engine builder and racer to chase the NHRA E/SA record. George helped me as much as he possibly could until he was stricken with cancer and passed away at age 62 in the late 1980ís. If he could see where I am at now, I think he would be proud of me.

By the early 1990ís, I had the car running within a few hundredths of the national record and I attended a few NHRA divisional points meets - but quickly decided that it wasnít for me. Even if I could set the record, low 11 second ETís just were not going to cut it for me having raced my street driven 1970 Cutlass with nitrous oxide and running 9 second ETís. Some friends from the Chicago area including Mike Glasby, Chuck Samuel, Nick Scavo and Ronnie Mroz to name a few, were racing in the newly formed National Muscle Car Association and I really liked the heads up style drag racing where the fastest guy was to have the advantage! This was for me.

I first started racing the street legal drag racing scene in what was called the EZ Street class at NMCA in 1996 with my 442 cubic inch, DX small block, red (formerly white) 1970 Cutlass. I had fun and went a best of 9.41 in the class, which was very respectable for that time period, but knew that racing a 3800 pound car was not going to do the job, so I set out to build the 1978 Olds Starfire that I still race in 2010. I knew it would be light, and designed the combination to run into the high 8ís at 150 mph, never even considering that the car would eventually run in the high 7ís at over 175 mph.

My original combination for this EZ Street class (at the lighter weight) was a flat tappet, 337 cubic inch Oldsmobile DX small block with cast iron Batten heads and a single stage nitrous plate. This combination was competitive in 2003 going a best of 8.70 @ 157 mph, but by this time the EZ Street class that I built the car around had begun to dwindle. For the 2004 season, I built a new 403 cubic inch, NASCAR small block Oldsmobile engine, and set the car up to race in the National Street Car Associationís (NSCA) Limited Street class. In that class, I was successful at setting the class record at 7.90 @ 175 mph and winning two consecutive National Championships in 2005 and 2006. In 2007, I decided to try something different and compete in the National Muscle Car Associationís no wheelie bar, Xtreme Street class. Since the start of competition, the Starfire always qualified on top of the ladder and set the national record in 2009 at 7.97 @ 172.

The second person that deserves credit as one of my mentors is Dave Smith of Dave Smith Engineering. As a young Oldsmobile racer, I looked up to him, as he was a high profile, accomplished Oldsmobile racer. I can remember calling him and buying parts and asking for advice on many Olds specific subjects that I so desperately wanted to learn about and he always took the time to help me. At this time I must give him a formal apology as I called and took up way too much of his time and as a shop owner, I now know how difficult it is to spend time on the phone. He helped pave the way to my future. Thanks Dave!!

During these almost 30 years of building Oldsmobile engines, I have had plenty of successes and failures - both of which have led me to where I am today. Iíve always used the common sense approach in to engine building rather that what was known to be the norm Ė i.e., what everyone else did at the time or what the common practice was. Competing at a national level, you are running against people that are ALL talented or else they would not be there.

With that being said, this type of competition forces you to do your best and make enough horsepower with your engine combination to compete. Racing against Fords and Chevroletís with an Oldsmobile forces you to design and fabricate damn near the entire engine rather than just go out and buy the latest performance cylinder head, intake manifold, etc and bolt it on.

It forced me to learn. I hope you enjoy what Iíve learned from 28 years of hard work, hard thinking and great mentors!